I had never been to Sofia or Bulgaria before. Needless to say I was thrilled about my invitation to Doma Art festival. Here you will find their Website and their Facebook-page. Please check it out as well, since their program is quite interesting and there are many things yet to see.
The city now called Sofia, the capital of Bulgaria, was supposedly established in 5 BC under the name of Serdica and gained much importance over the centuries due to its central positioning in the balkan region. Over the course of time it was under the reign of the Romans, the Ottomans, the Huns,... just to name a few.
On the pictures to come you can now see my claim of this beautiful city. The first pictures show the National Art Gallery. It took me a couple of hours to finish the patch, and when I returned later in the evening, it had disappeared. I personally don't mind the short-livedness of the patches, since I am very used to the works being fair-game for any needy or greedy passersby. However, the next day, while passing by it had miraculously returned to its former position. How this happened is yet unclear to me, but I will let you know as soon as I find out.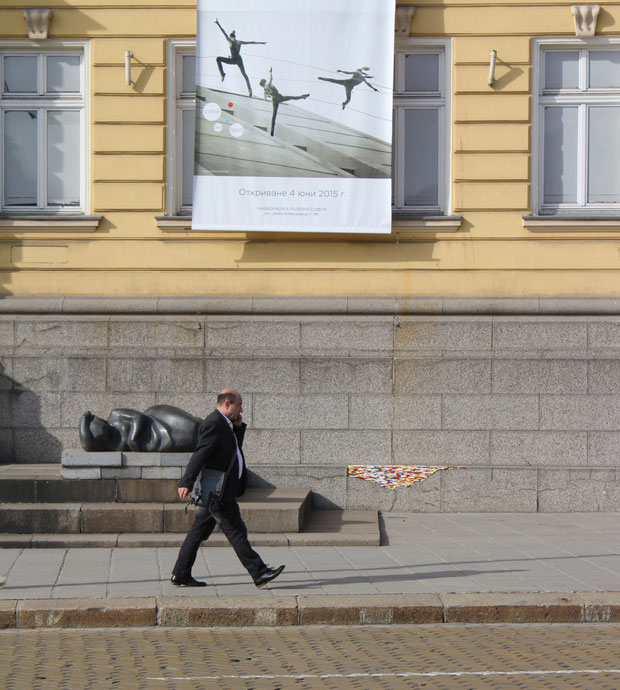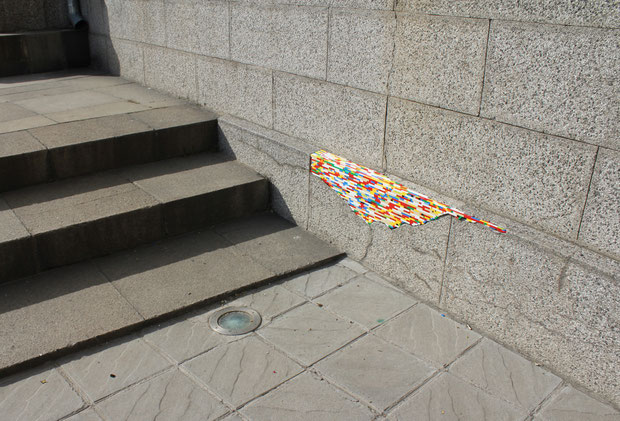 But first things first. Upon my arrival, we decided with the organizing commity of DOMA to visit a lesser known neighbourhood called Falultete. It's kind of a neglected part of town where are none of the historical buildings but beautifully self-crafted homes. If you go there, you feel like you were in a different city, maybe a whole different country, and, with horse-carriages passing by, also a different time. We found a nicely damaged wall and settled.

Within a couple of minutes after having started, the kids of the neighbourhood took notice of us. First one, soon after a dozen started to find interest and asked us if they could join. Needless to say that we invited them to take part, which they did with great enthusiasm. I have worked with kids a lot on this project and honestly in this community I found some of the most active and joyful kids to ever take part in this project with a great seriousness as to repair their hometown's walls.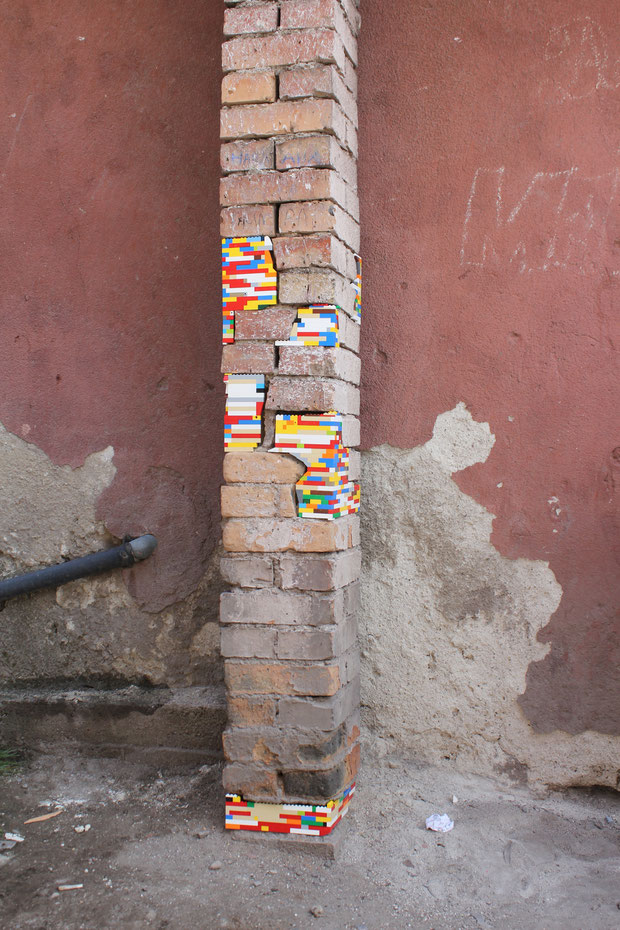 The next day, back in the city center we fixed up a part of the broken staircase of the cinema which was screening movies as part of the festival program. Free Sofia is my small message to the Sofiotes. Interpret as you may.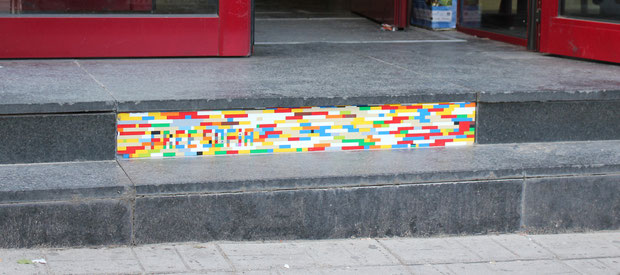 Later we went to the mayors house and found holes which look to me as if left by gunfire. However, nobody could confirm or deny the origins of these holes. On the following pictures a small tutorial of the structure behind the patch.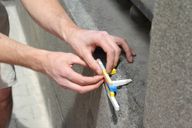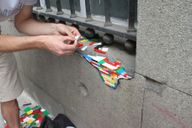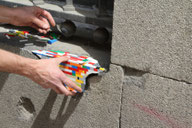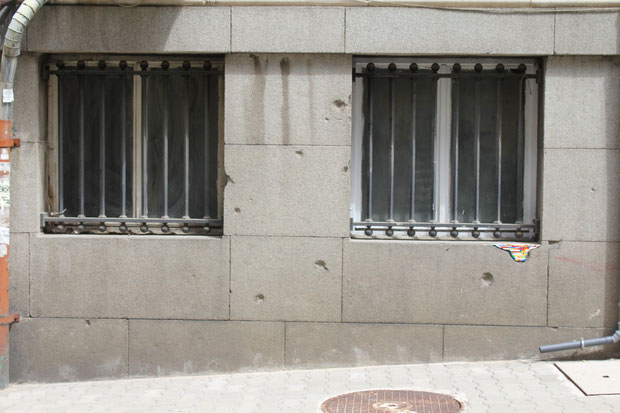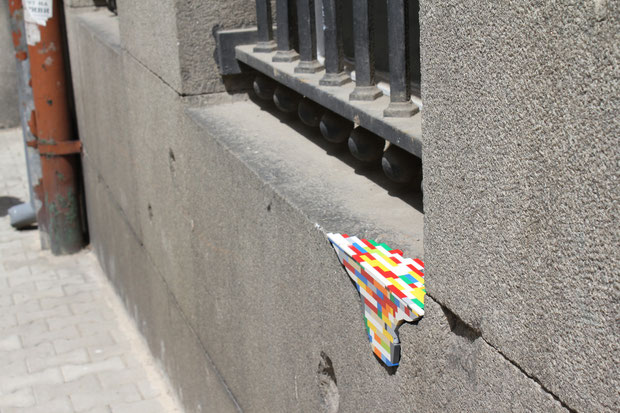 A question I get asked frequently is if I know who takes the patches out. I have multiple of these people on tape, and you would probably be surprised on who these people would be. This security guard from across the street ISN'T one of them. When I left he crossed the street and took the patch out on curiosity. I approached him and took the picture because I was amused about his initiative to leave his post and check out my work.
Here you see the patches on the fridge-factory where took place one of the DOMA exhibitions and following close to the Goethe-Institut Bulgaria, as well as another patch in downtown.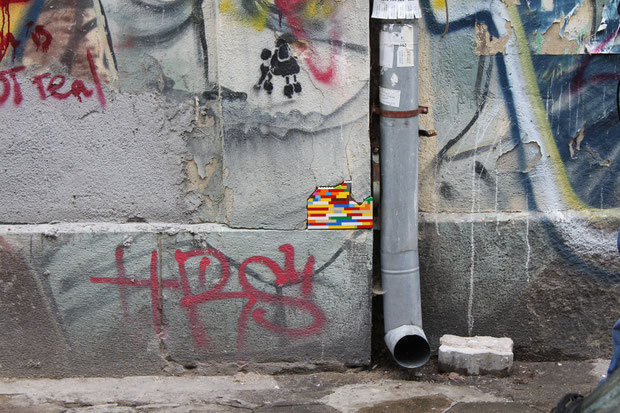 On the last day, we found a wall on the Church of St. George, build by the Romans in the 4th century. There had been some debate on social media about whether or not this was disrespectful towards the believers. I would love to hear your opinion about it, so please contact me. Just to be clear, however, the priest walked by us as we were in full action and didn't interfere with us going about our work. I think it's safe to intrepret this as a sign of his support for Dispatchwork.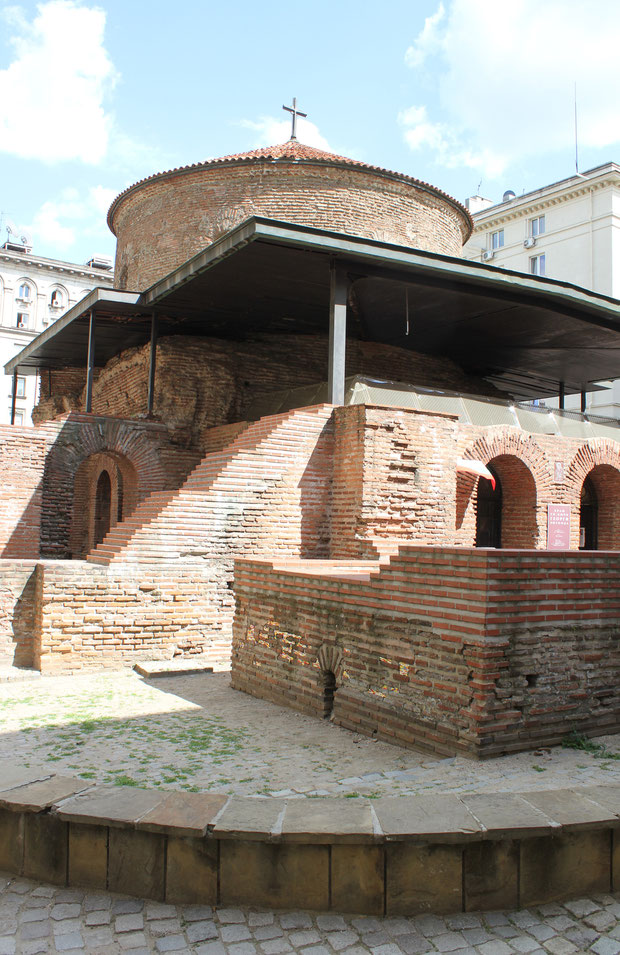 Thanks to all who made my stay in Sofia truly memorable!