For a conference initiated by the Museum of transitory art in collaboration with Artos Foundation I went to Cyprus for three days to talk about my work with its temporary and transitory aspects. As a thank you to the organisors I left two little patches in the history-ridden dowtown walls of the divided capital.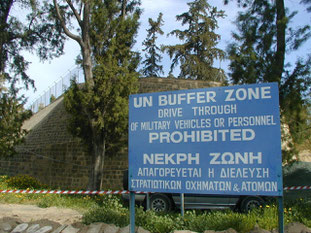 I didn't know much about the full impact of the '74 Turkish invasion in the north of this island State in the eastern mediterrenean.
Cyprus has been divided between a government-controlled area, comprising the southern two-thirds of the island, and a north third administered by Turkish Cypriots.
No country recognizes the Turkish Republic of Northern Cyprus" other than Turkey. On the pictures you can see the black barrier deviding the capital.
The City center is surrounded by a citadell wall.